PELLET STOVES
piazzetta · ravelli · thelin · true north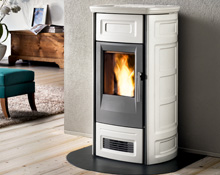 P958 C - PIAZZETTA
This traditional hand-made curved majolica lends itself to any classic décor, with added front ceramic pieces to expose a more traditional looking stove.

Multifuoco System
Three speed forced ventilation system.
Warm air ducting up to 30 feet'
Multifunction remote control
LCD display, timer, thermostat and Multicomfort function','Daily, weekly and weekend modes.
Dual time settings
Programming
Daily, weekly and weekend modes.
Dual time settings
SY Structure
Enameled steel with door, burn pot and firebox in cast iron
SY Majolica cladding
Unique large hand-made pieces
Air Glass System
Self-cleaning ceramic glass resistant up to 1380 F / 750 C
Easy Cleaning
Quick and easy maintenance, removable ash drawer
Wellness
Humidifier with aroma diffuser
RV100 - Ravelli
Standard RDS system
Aluminum side panels
Majolica upper top
Cast iron grate
Glass-ceramic door with border, heat resistant up to 750°C
Function controls with graphic display and remote control
Timer thermostat as standard
Centrifugal fan heating
Glass cleaning system
Standard programmable thermostat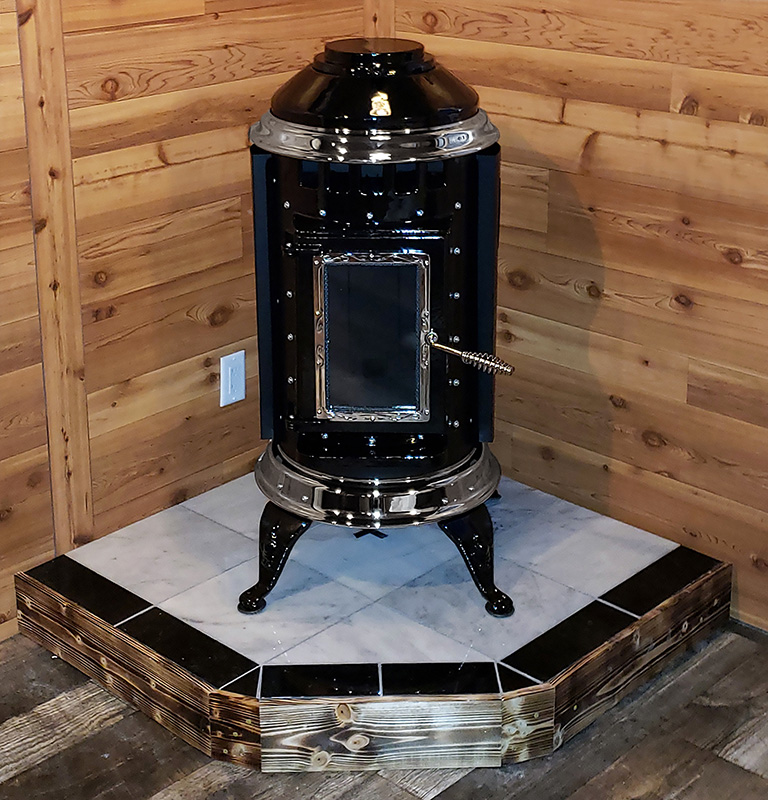 The Parlour 3000 Pellet Stove - Thelin
is the most unique heater available in the market. Having a Traditional Pot-Belly Style while incorporating advanced DC Drive Technology, Battery Back Up Heat, Ultra Low EPA Emissions, and low operating costs are just a few of the benefits.
The Parlour 3000 Pellet Stove is the most unique heater available in the market. Traditional Pot-Belly Style is the company hallmark while incorporating advanced Technologies. With 25 years and thousands of units operating the Parlour Pellet has benefited from continuous design improvements. The original DC Drive-Battery Back Up stove provides a high 40,000 btu burn rate and lower overall operating costs. The Parlour Pellet is equipped with 12 volt battery backup circuitry including battery trickle charge capability. When your power goes out, you can rest assured that the Parlour will keep going. Environmentally conscious with a Ultra Low EPA emissions output of only .43 grams per hour the Parlour takes first place. With convenience, durability and vintage styling in mind, this unique stove will add a touch of elegance to your home.
Features
•Your choice of six porcelain enamel colors, or charcoal or black matte finishes
•Push-button controls
•Cast-iron fire pot
•Automatic fuel feed
•Automatic electronic ignition
•12 volt battery backup system with trickle charge
•Ultra Low EPA Emissions
Options
•14K gold plated trim package
•Nickel plated trim package
•Wall-mounted thermostat
•Remote thermostat
•Battery back-up cable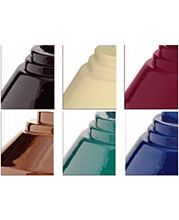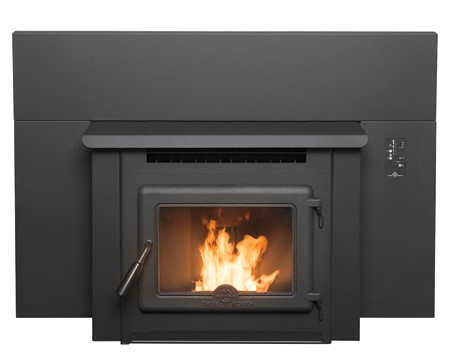 TN40 Pellet Insert - True North
Simple to operate and easy to maintain, True North pellet inserts are a clean burning, low emissions biofuel heating alternative for your existing fireplace. Engineered for superior performance and durability, the TN40 pellet Insert is constructed from heavy gauge steel and features a wide firepot to deliver rich, full flames.
BTU High 36,000
BTU Low 8,000
Hopper Capacity up to 60 lb.
Efficiency 73%
Emissions 0.69 g/hr.
STANDARD FEATURES
Mobile home approved
Easy access digital controls
Easy opening hopper lid for refuelling with safety shut-off switch
Clean glass air-wash technology
Self-cleaning stainless steel burn pot liner
EPA Certified
Simple 3-mode operation: manual (automatic, hi/low – when equipped with a thermostat)
Convenient 5 level heat control
Optional wall thermostat capable operation
Automatic igniter
Limited Warranty
select image to pull up manufacturer's specifications in new window