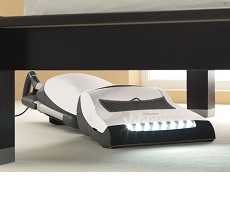 Dynamic U1 Cat & Dog
Features:
• Powerful 1,200–watt Miele-made Vortex Motor™
• 2 motor system with separate control for Electro Brush Floorhead
• 4-setting suction control via Rotary Dial
• Patented SwivelNeck™ technology allows for extreme maneuverability
• Automatic carpet height adjustment
• LED headlight
• Exclusive Miele AirClean Sealed System™
• Type U AirClean FilterBag™, 5.45 quart
• Active AirClean filter (AA 30)
• Integrated 12-foot flexible hose
• Lightweight, telescopic aluminum wand
• Integrated Dusting Brush, Upholstery Tool and Crevice Tool
• Mini turbobrush (STB 101)
• 54 ft overall cleaning radius
About Miele
Since 1899, Miele has been dedicated to fulfilling our founding promise of 'ImmerBesser'— a German phrase meaning 'Forever Better.' We deliver on this promise with our full suite of state-of-the-art home appliances, and we support your passion for a cleaner, healthier and more comfortable home with our innovative, award-winning collection of vacuum cleaners.
Whether cleaning plush carpets or polished hardwoods, handcrafted furniture or delicate upholstery, Miele's canister and upright vacuum cleaners help you care for all aspects of your home. Our advanced, technologically superior filtration systems also improve the quality of air in your home, so you and your family will breathe easier now — and for many years to come.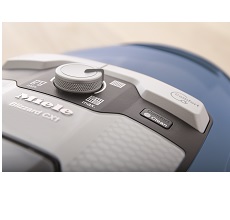 Blizzard CX1 Turbo Team
Features:
• Bagless canister vacuum

• 1,200–watt Miele-made Vortex Motor™

• 4-setting suction control via Rotary Dial

• Mono-Cyclone Vortex multi-stage filtration system

• HEPA Lifetime Filter

• ComfortClean self-cleaning Gore® CleanStream® fine dust filter

• DynamicDrive swivel casters

• TurboTeQ Turbo Brush Floorhead (STB 305-3)

• Parquet Twister Floorhead (SBB 300-3)

• Integrated Dusting Brush (on handle), Upholstery Tool and Crevice Nozzle

• 33 ft overall cleaning radius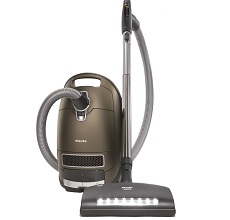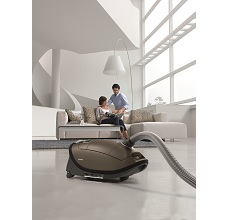 Complete C3 Brilliant PowerLine
The pinnacle of performance and convenience
Features:

• Low-noise,1,200–watt Miele-made Vortex Motor™

• Deluxe handle grip with electrobrush controls and suction controls

• Lightweight skeleton construction

• Automatic setting

• Automatic standby switch in rear park

• Exclusive AirClean Sealed System™

• Unique AirClean FilterBags™, type G/N, 4.76 quart

• HEPA AirClean filter (HA50)

• Filter replacement indicator

• Illuminated side park system

• LED underbody lights

• Parquet Twister XL floor tool (SBB 400-3)

• AllTeQ Combination carpet/smooth floor tool (SBD 285-3)

• Electro Premium electrobrush (SEB 236)

• Integrated dusting brush, upholstery tool and crevice nozzle

• One-touch cable rewind

• 36 ft overall cleaning radius
select image to pull up manufacturer's specifications in new window