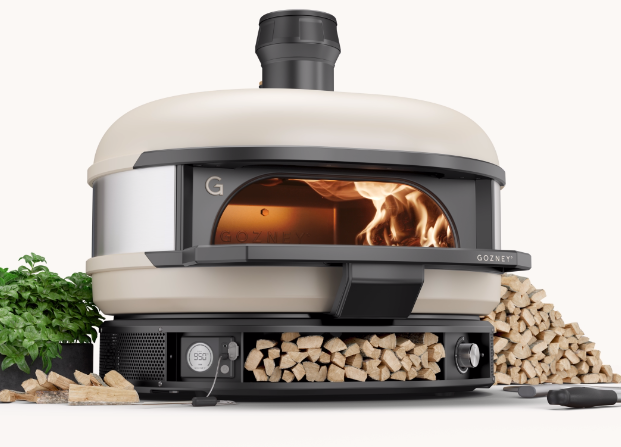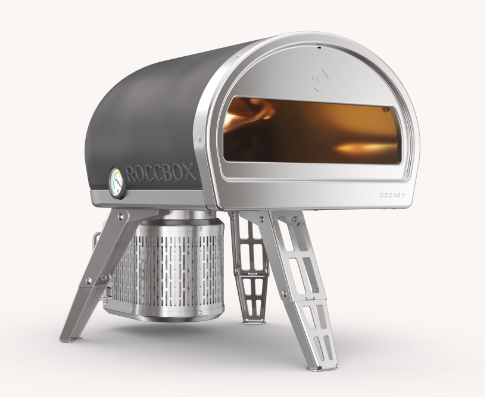 ROCCBOX
The restaurant-grade portable pizza oven for your backyard.
Cook restaurant quality pizza at home with Roccbox, designed for ease of use and unrivalled performance.
Portable - Take Roccbox anywhere with it's retractable legs, detachable burner and built-in thermometer.
Reaches 950°F - Enjoy unrivalled cooking results created by a thick stone floor, dense insulation and a unique rolling flame.
Gas or wood fuelled - Roccbox comes with a gas burner as standard, and the option to buy a detachable wood burner as an additional accessory.
Safe touch - Host pizza parties with the family friendly pizza oven, thanks to Roccbox's safe-touch silicone jacket.

Restaurant-grade - Engineered to replicate the performance of Gozney's professional pizza ovens, used by leading chefs and restaurants all over the world.
DOME
Make wood-fired cooking easy with the Dome, the world's most versatile outdoor oven.
Enjoy a professional grade outdoor oven engineered to work effortlessly for beginners and exceptionally for chefs. Unrivalled performance. Unlimited possibilities. Made simple.
Roast, smoke, steam or bake. Super fast or low and slow. A wood-fired adventure, every time, The Dome is the only investment you need to make in your backyard.

Oven external dimensions: 26" H x 24.8" D x 28.8" W
Weight: 128lb (150lb in packaging)
Oven mouth is 5.1" tall and 16.1" wide
Dome is only suitable for use indoors with gas fuel when correctly ventilated to atmosphere. For a guide on correct extraction for Gozney Dome, please see download here. Please note, this is guidance only. Always check your local codes and regulations prior to purchase and usage.
Gozney was founded with one simple mission: to combine wood-fired engineering and beautiful design to create products that will forever change the way we cook, connect and live.
Our founder, Tom Gozney, built his first pizza oven by hand, relying purely on his own ingenuity. He had suffered from addiction and after completing rehab found social situations a struggle. His homemade pizza oven became a tool for him to reconnect and re-engage with loved ones, and he witnessed first-hand the power food holds in bringing people together ultimately inspiring him to start building his business brick by brick.
In 2010 Tom set up his first brand, The Stone Bake Oven Company, which focused on commercial ovens for local pizzerias. Its success laid the foundations to launch Gozney and its broad range of user-friendly and pro quality pizza ovens for both commercial and residential use.
Over the years Tom and the team have continued to push the boundaries of design and wood fired engineering launching several award-winning products. With a clear gap in the market, 2016 saw us take our first step into creating residential products with the launch of Roccbox. Using the same technology and materials as our professional ovens yet shrunk into a simple to use and portable package, Roccbox quickly became a global success, with a cult following throughout the UK, Europe, Australia and North America.
2021 marked a pivotal year for the brand with the launch of our most versatile oven yet, the Gozney Dome, which has already captured the hearts of design enthusiasts and chefs alike and bagged itself a coveted Red Dot Design Award.
Today our ovens are favoured by some of the biggest names in cooking, used in several of the world's leading kitchens and found within gardens, backyards and patios across the globe.