Free stand FS-26-922 - Amantii
A distinctly European styled free standing electric fireplace from Sierra Flame by Amantii. This Fireplace features a beveled glass viewing area that gives an almost 'see-thru' effect on three sides.
With no installation boundaries, no need for mounting brackets or building into a wall, this free stand model goes in any room you like.
Virtually no assembly required – just simply plug in and enjoy!
Media: comes with an 11 piece log set and sable glass.
•FIRE & ICE ® Flame presentation ‐ three light strips allow for yellow, orange, blue, violet and rose colored flames
•Ambient Canopy lighting in 13 colors
•Approx. heating area 400‐500 sq. ft.
•2 Stage heater
•Hard‐wire ready
•Thermostat hard‐wire ready
•Flame can operate without heat
•Single remote control for flame, ambient canopy lighting & heater included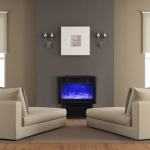 Winston Mantels - Dimplex
Simple elegance defines this traditional electric fireplace. The clean white finish is enhanced by fluted pilasters and carved detailing. The result is an enriching focal point in traditional spaces.
Recessed picture frame detail on the mantel frieze and pilaster capitals
Multi-layered crown molding caps off the mantel and matches the stature of the design
Mitered trim detail adds depth and completes the firebox surround
Half-column pilasters with fluted details exude traditional elegance
Breakfront design carries all the way from the base, through the pilasters to the mantel top
select image to pull up manufacturer's specifications in new window
The BI-72-DEEP-XT - Amantii,
is a very stylish 72″ wide and stunning 18″ high electric fireplace that is an amazing addition to any space – Indoor or Outdoor – With the DEEP-XT available in 5 sizes, you will find a fireplace that is perfect for any space in your home, business or commercial space. The Extra Tall BI-72-DEEP-XT fireplace model has a deep media tray and comes standard with an incredible 15 piece log set, ICE media, pebbles, stones, black glass and vermiculite embers allowing you to completely customize the look of your fireplace.
Built with Amantii's FIRE & ICE® Flame presentation made of three color LED light strips allowing for multicolor flame options. With just a click of the included remote control, choose from blue, rose, violet, yellow or orange colored flames.
Panorama fireplaces are rated for Indoor or Outdoor use.
Full Frame Viewing Area
The Panorama Series give you multiple length and depth options as well as giving you the ability to install your fireplace with your choice of finishing material built right to the glass for a "clean face" design or using the provided black metal surround. Your choice – your design!
Amantii electric fireplaces
A Kaleidoscope of colors
Panorama electric fireplacesFeaturing the vibrant Fire & Ice flame set, with just a click of your remote you can easily change the flame color from blue to purple to violet to orange or yellow.
How is the heat emitted from a Panorama?
The heater and fan are located in the top of the unit and the glass is uniquely angled backwards to allow heat to cascade down over the front of the fireplace.
Note: The BI-72-DEEP-XT fireplaces models feature the newest Dual Flame blue/multi-colour flame presentation.